Since the Affordable Care Act, the percentage of Minnesotans without health insurance has been reduced by half and now 96% are covered.
96% of Minnesotans now have health insurance: a historic high for our state. 
$330 million in federal tax credits to Minnesotans purchasing private health plans in 2017.
422,800 more Minnesotans now have health insurance.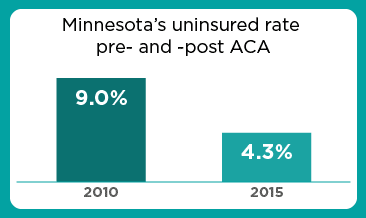 Ken and his wife Zion are able to realize their dreams of becoming small business owners thanks to affordable health care through MNsure.
Theater teacher and bicycle enthusiast Rebekah had a bike accident and is glad she was covered through MNsure.
These are just some examples of the people who were able to obtain quality, affordable health insurance coverage through MNsure.