Sign in to your account and click  the Go to your account link under the Current Customers heading. This will take you to your account homepage. 
Click View Next Year Eligibility Results.
Your Health Care Results page will load.
Click the Enroll in Plans button to go to your enrollment dashboard. (The button may have slightly different text.)
Your dashboard will load. 
You'll see Next Steps at the top of the screen. The example screen below shows the dashboard during open enrollment for a person whose plan has been renewed for the 2021 coverage year. The message under next steps reads, "You have successfully enrolled in coverage through MNsure. If you wish to change your medical or dental plan, please click the 'CHANGE PLANS' button below." (You can change plans any time during the open enrollment period. To change plans outside of open enrollment you must qualify for a special enrollment period.)
The medical and dental plans for your household will be displayed further down the screen with an option to view the plan details. You'll see the enrollment status next to each plan:
Complete or Enrolled: you are enrolled in the plan, no further action is needed. MNsure has received the premium payment confirmation from the insurance company.  
Pending: you are enrolled in the plan but have not paid the first month's premium to the insurance company or MNsure has not yet received confirmation of the payment. If you sent a payment and but you see the pending status, call your insurance company to verify payment was received.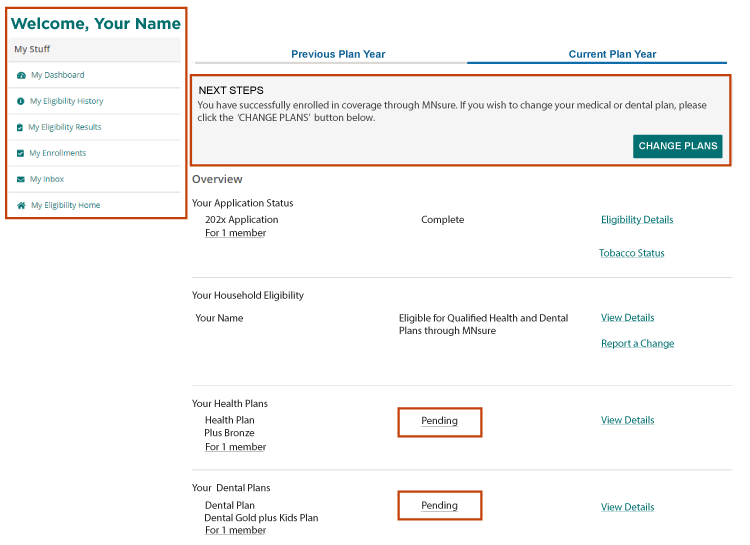 Actions from Your Dashboard
Actions you can take from your dashboard include changing plans during open enrollment, reviewing household information and enrollment history, reading notices and cancelling coverage. 
Learn more about your dashboard and the actions you can take.