Check Enrollment Status
Before your coverage begins, you will receive information directly from your insurance company. In most cases, you must pay your first premium before your insurance is effective.
To check your enrollment status in a private medical or dental plan, sign in to your MNsure account and follow these steps:
Navigate to the Home screen by clicking the "Continue" button
Choose the "Go to your account" link to go to the Eligibility Home screen
Click the "View Next Year Eligibility Results" link
Click "Enroll in Plans" button to open your enrollment dashboard
On your dashboard scroll down to "Your Medical Plans" or "Your Dental Plans" and you will see the status of your enrollment next to the plan:

Complete or Enrolled: means you are enrolled in the plan, no further action is needed. MNsure has received the premium payment confirmation from the insurance company.
Pending: means you are enrolled in the plan but have not paid the first month's premium to the insurance company or MNsure has not yet received confirmation of the payment. If you sent a payment and you see the pending status, call your insurance company to verify payment was received.
Example screen showing enrollment confirmation on the dashboard, with a pending status for both medical and dental plans.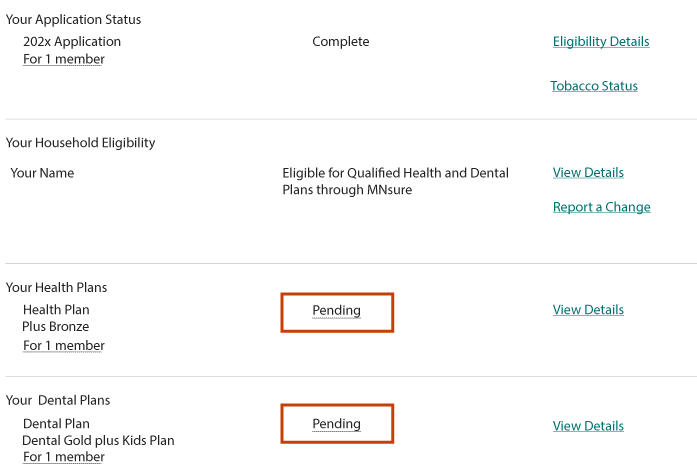 Enrollment History
The enrollment history in your dashboard will show plans you have enrolled in (starting in 2020). If you cancel or disenroll from a plan, this status will display in your enrollment history.